2021 Challenge Roth Race Day Fan Experience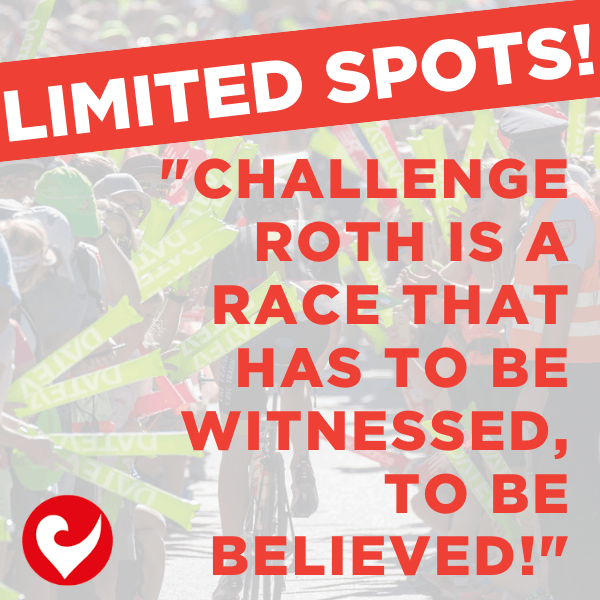 This race day tour is the ideal way for spectators to witness the spectacle and experience the atmosphere of Challenge Roth 2021.
First up, fan tour guests will have exclusive access to the Challenge Roth VIP  swim start marquee, located opposite the swim start (Heuberg side of the river). Here you will be able to enjoy some light breakfast and coffee and have the best seat in the house to watch the start of this famous race!
Following this, guests can complete a short walk to the famous Solar Hill on the bike course and have the opportunity to cheer along the athletes with the thousands of other spectators that line the Solar Hill climb!
Your tour guides will then walk you  to the air conditioned coaches where our Challenge Roth journey continues. The coaches will take you to the following locations on the Challenge Roth course:
Bike Course (123km) – Greding: This is where the race starts to get tough and it's at the time when the riders need a little bit of help from the crowd.
Run Course (12/24km) – Lande: This spot is great place to cheer on athletes. There are food vendors, a large crowd, music and lots of volunteers at the Lande – one of the iconic positions on the course.
Finish Line: Your designated bus will take you to the finish area where you have a guaranteed entry into the stadium no matter what time of day. By showing your wrist band security will let you into the finish to wave, scream and yell for your Challenge Roth finisher!
Adult price = $115 AUD (approx. €70) | Child Price = $55 AUD (approx. €30)

Choosing your Bus Group in April 2021
After booking your Challenge Roth Fan Tour today you will be guaranteed your place on the Race Day Bus.
In April 2021, once your competing athlete knows their predicted race splits, you will receive an email requiring you to nominate your chosen Bus Group. This will determine the times at which you will be at the listed course locations and importantly the time that you arrive at the finish line.
Below is an example on which bus group will follow each wave start group. Please note we will always do our best to make sure you see you loved one but it may not always be possible.
Bus 1: Pro Men and Women, Sub 9
Bus 2: Group 4, 5, 6
Bus 3: Women 1 and 2
Bus 4: Group 9,10,11
Bus 5: Group 12,13,14
Bus 6: Group 15,16,17,18,19 and teams
Race Day Fan Tour includes:
Once the Challenge Roth expo opens in July you will be required to register and collect your Challenge Roth Fan Tour merchandise bag and wristband. All times and details will be sent to you in April, 2021.
Exclusive Bus Ticket to watch the race from four vantage points
Ticket into the finish line grand stand
Challenge Roth merchandise voucher
Challenge Roth Fan cap and drawstring bag
Challenge Roth Fan cowbells
Light breakfast at swim start and soft drinks on course
Adult price = $115 AUD (approx.€70) | Child Price = $55 AUD (approx.€30)